CSP-Radar: An Online-Tool to measure and control corporate sustainability free of charge
The public interest in whether companies assume social and environmental responsibility is growing. The online radar for Corporate Social Performance, in short CSP-Radar, helps companies to define scientifically derived fields of action and validated indicators for their own sustainability reporting. Users receive their personal CSP-Radar and a CSP-scorecard for free, which can be used as a template for sustainability reports.
Start Now!
Find out in just a few steps how you can plan and design your business to be more sustainable.
Get to the CSP-Radar
Violations of public expectations towards Corporate Social Responsibility (CSR) and Performance (CSP) pose significant reputational risks for companies. Unclear rules and standards also lead to uncertainty as to what information must be published to create the greatest possible transparency regarding a company's own CSR activities. Since April 2021, the requirements have been somewhat clearer, at least on the part of the EU: Selected companies must prepare a sustainability report as part of their management report for the 2023 business year. This report has to present sustainability-relevant effects that emanate from the company's own activities as well as external effects of sustainability on the company. The companies must therefore decide by the end of 2022 which indicators should be collected and how they should be reported.
The free online tool CSP-Radar, developed by the zeb.business school at Steinbeis University and supported by the Funk Foundation, offers useful assistance. In just a few steps, users can define fields of action for their own sustainability reporting and link them to relevant indicators. The selection of the fields of action was based on an AI-based text analysis and ratings by experts; the assigned 81 indicators are based on globally available key figures from rating agencies and government bodies.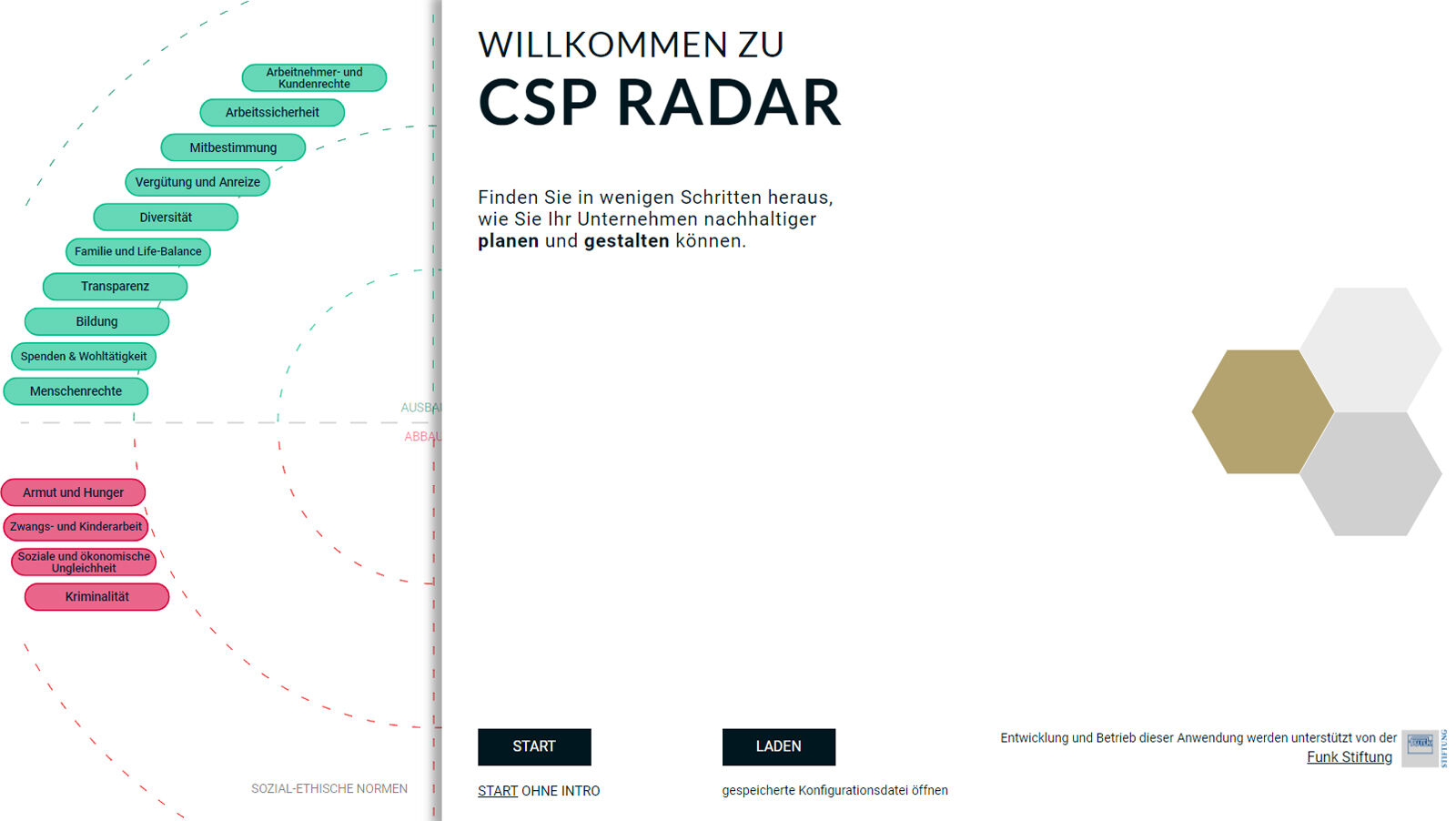 The online tool CSP-Radar creates transparency about different fields of action around the sustainability of a company.
The CSP-Radar is available for free on the websites of the Funk Foundation as well as the zeb.business school and works with a dynamic impact and measurement model. The results are significant, the procedure uncomplicated: In the first instance, indicators are selected that allow effective self-assessment. Subsequently, an AI-based simulation model calculates and shows how a field of action is influenced by other fields in the sustainability context. According to the selection, the tool finally provides a CSP-scorecard as an Excel file that companies can use to fulfill reporting obligations. In addition, users can save their input and use it again.
Another feature: If required, for some specific industries, including logistics, energy, pharmaceuticals and textiles, weightings for the importance of the fields of action are predefined, these were calculated from experts' ratings.
In this way, the interactive CSP-Radar helps users from all sectors to identify interdependencies for their respective business model and also to create an individual sustainability report as a result. In addition, the online tool has been technically implemented in such a way that it can be easily expanded and adapted to specific companies.